A Whole House San Diego Home Remodel With A New Dual Sink Kitchen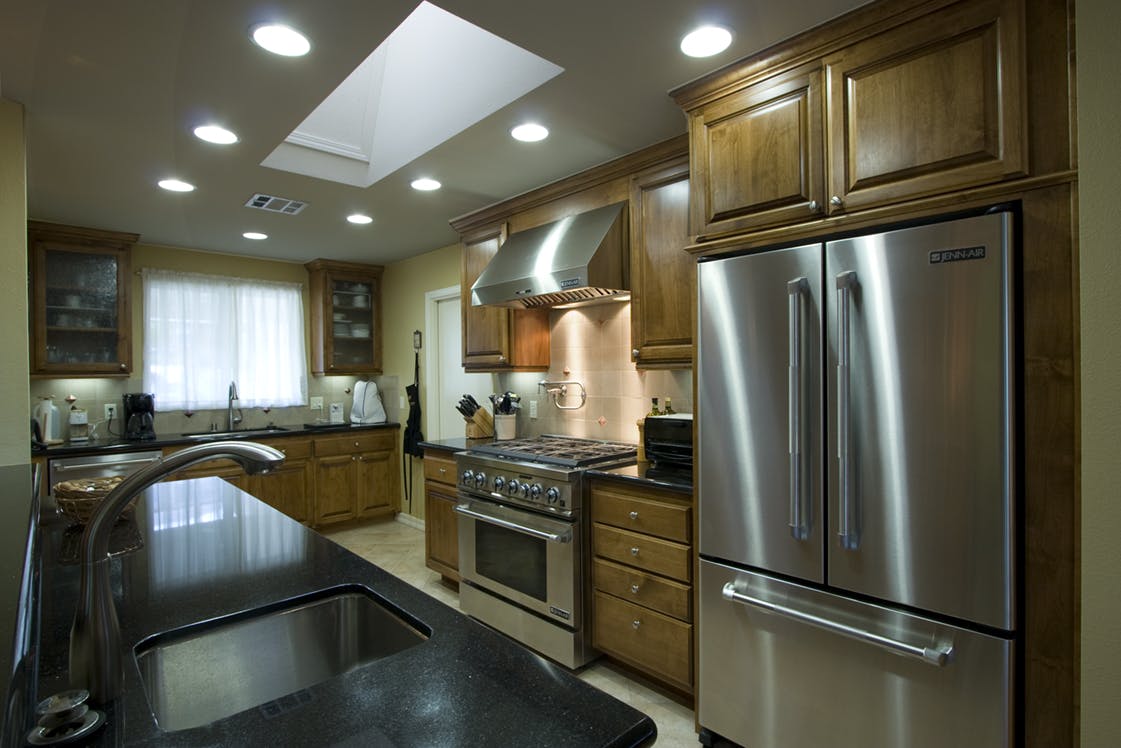 When it comes to a San Diego home remodel, there is a good chance you generally hear about specific rooms being targeted. Whether that be kitchens, bathrooms, or additions, these are all elements (and important ones) that need extensive time and attention to ensure end result success. However, when there is a full home remodel project in the queue, that is an entirely different playing field with a lot of moving parts – something that only qualified/dynamic contracting professionals should have the pleasure of taking on. And with nearly three decades of being San Diego's top-performing contactor, that is exactly what these San Diego clients chose K-CO to help them with their top-down home remodel with a dual sink kitchen twist.
The ultimate San Diego home remodel features a new dual sink kitchen. Click here to discover how K-CO transforms their client's sanctuary from ceiling to tile.
The San Diego Home Remodel Featuring A New Dual Sink Kitchen
Starting this case study in the kitchen, the clients really wanted to accentuate the area with both space and functionality at the same time. To do that, K-CO created a custom island that featured elevated bar-top seating and integrated a prep-sink and under-counter microwave for that more modern/contemporary feel. Coupled with that, K-CO also added a sophisticated-looking hooded vent to the aesthetics, which helped blend the entire design scheme together. Along with upgrading the kitchen per the client's request, they also removed all the bearing walls that were recently there between the kitchen and dining room to create a great room instead. In the end, this kitchen was able to not only meet client expectations but fundamentally exceed them from ceiling to tile. 
Keep in mind that though the dual sink kitchen is certainly the spotlight of this San Diego home remodel, that is not all that K-CO worked on during this full-scope project. In addition to the dual sink kitchen, the team also revamped the entire upstairs master suite and master bathroom, which now possesses two large sinks, an elongated countertop and a separate shower and tub combination to really give off those luxurious, spa-like vibes. Last but not least, the entire home was advanced with a new high-efficient heating and cooling system and upgraded filtration to ensure the water quality was clean and drinkable from every faucet.
Summary – 25+ Years Building Your Dreams
Never underestimate the power that a full San Diego home remodel can have on both the appeal and value of your home. Even more, when you have the right contractor on your side who can give you the dream results you are looking for all within budget, then it that ultimately becomes the catalyst for a successful remodeling journey from start to finish.
With that being said, if you are thinking about embarking on a home remodel yourself or desire a dual sink kitchen as a standalone, then don't hesitate to give K-CO a call today. For the last 25+ years, this team has helped countless individuals and families across San Diego achieve the house they have always envisioned for themselves and doing so, all while ensuring they have a cordial experience every step of the way. In short, when you are ready, so are they.
Resources
https://www.houzz.com/hznb/projects/dual-sink-kitchen-pj-vj~1374357