Clairemont Family Kitchen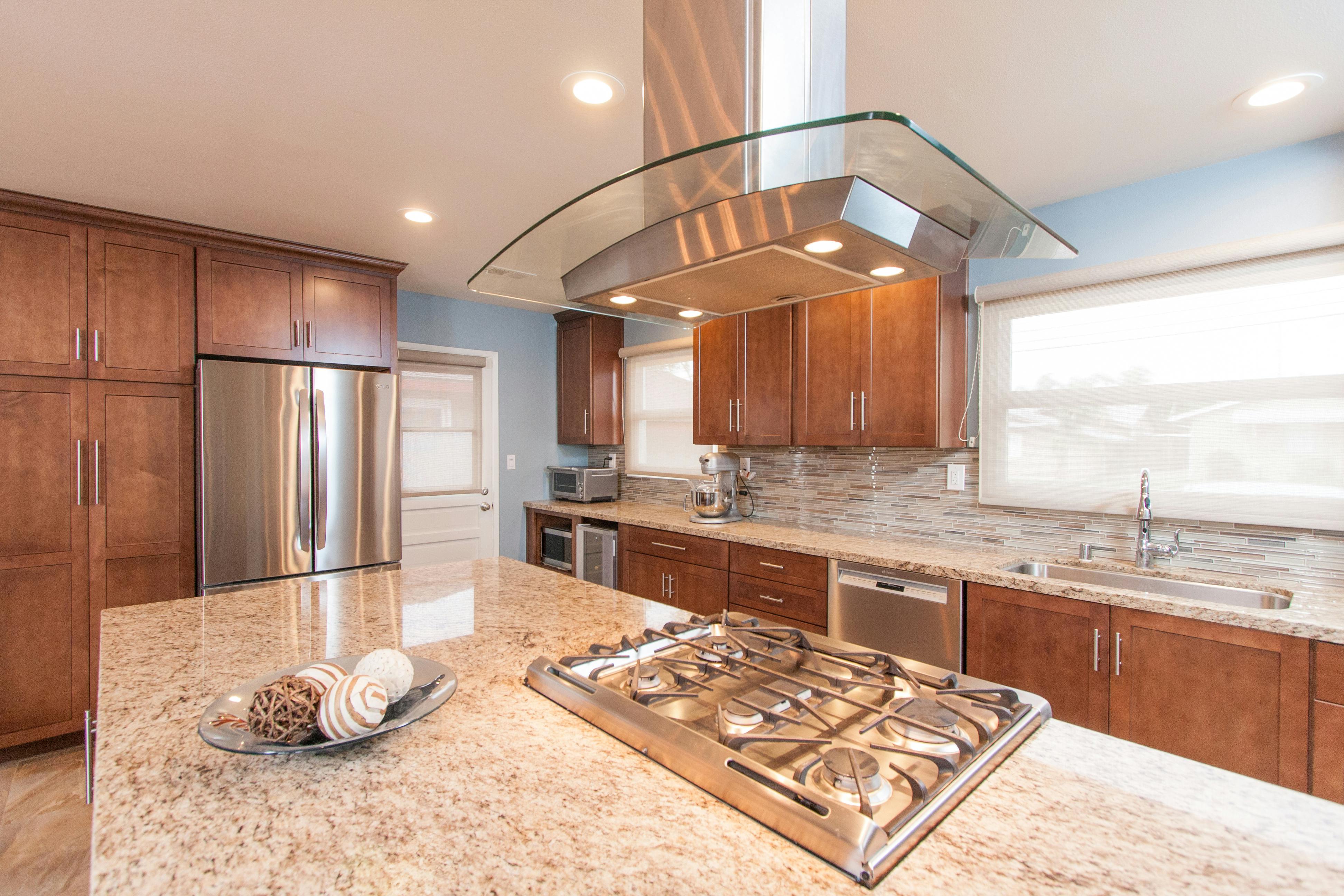 Renowned for being a top-performing San Diego Kitchen Remodeling contractor for the last 25+ years, K-CO Construction has certainly instilled bar-rising impressions with this newest Clairmont family kitchen remodel. Fully licensed and bondable, K-CO construction has supported hundreds of dynamic clients on archiving the dream homes they deserve, whether that be bath/kitchen remodeling, additions, ADUs, and any other tailored projects in-between. So, when they were engaged by a client who wanted to reform their small kitchen into an extended space for celebratory family events, the K-CO team was excited and more than happy to take the challenge on. 
The Clairemont Family Kitchen Remodel Transition 
It is not uncommon for families to grow and need more living space to accommodate. This is what happened to our Clairmont clients, which sparked their San Diego kitchen remodeling journey with K-CO. Overall, the clients' mid-century bungalow became too small to host their large family Sunday dinners comfortably. But instead of uprooting and seeking out a larger home on the market, they chose to contact K-CO, a choice that led to their confined kitchen space to convert into the ultimate entertaining family kitchen. In this new design, these K-CO clients are now able to host large family gatherings and dinners spaciously, with the added perk of no one having to miss out on the fun - even if they are cooking.
How did K-CO do it? With extensive planning and enlarge-focused designing, the K-CO team discovered the ideal solution to not only meet their clients' dream kitchen visions but exceed them. To make that happen, the process involved removing one of the closing walls to create a great room open floor plan. They also moved the cooktop to the new refining peninsula and utilized a harmonious blend of natural color schemes, making the Clairmont kitchen remodel manifest into an incredibly larger, interactive family space. The most important part was that the team was 100% transparent and communicative with their clients through every developmental stage, giving them that inclusive peace of mind knowing that they were going to be satisfied by the end. 
To review more K-CO portfolio projects, you can do that by clicking here or by visiting their website.
The Entertaining Family Kitchen Results 
Within this upgraded open concept kitchen, clients are able to bask in the sizable transitional ceramic tile coupled with rich flat-paneled, medium-toned wood cabinets that offer opulent space-enhancing vibes. This statement-making kitchen remodel also showcases a luxury under-mount sink, beautiful light-colored granite countertops, a beige backsplash along with a glass tile backsplash, quality stainless steel appliances, and of course, the open-faced peninsula. Intertwining each design element together delivers a profoundly entertainment-oriented kitchen space that contains the perfected balance of bright modern aesthetics and traditional, family-warming appeal.
Do you live in or around San Diego and have a kitchen remodel project of your own you would like to pursue? What about inquiries on home additions or ADU building? If so, don't hesitate to contact the K-CO team today. As a brand that has won multiple Torch Awards and was given the Best of Houzz Service 2021 award, you can be confident that your home upgrading visions are in the best possible hands to become a reality.
Resources
https://www.houzz.com/hznb/projects/clairemont-family-kitchen-pj-vj~1171568