The Perfect (and Cozy) Tuscan Style Kitchen Transformation By K-CO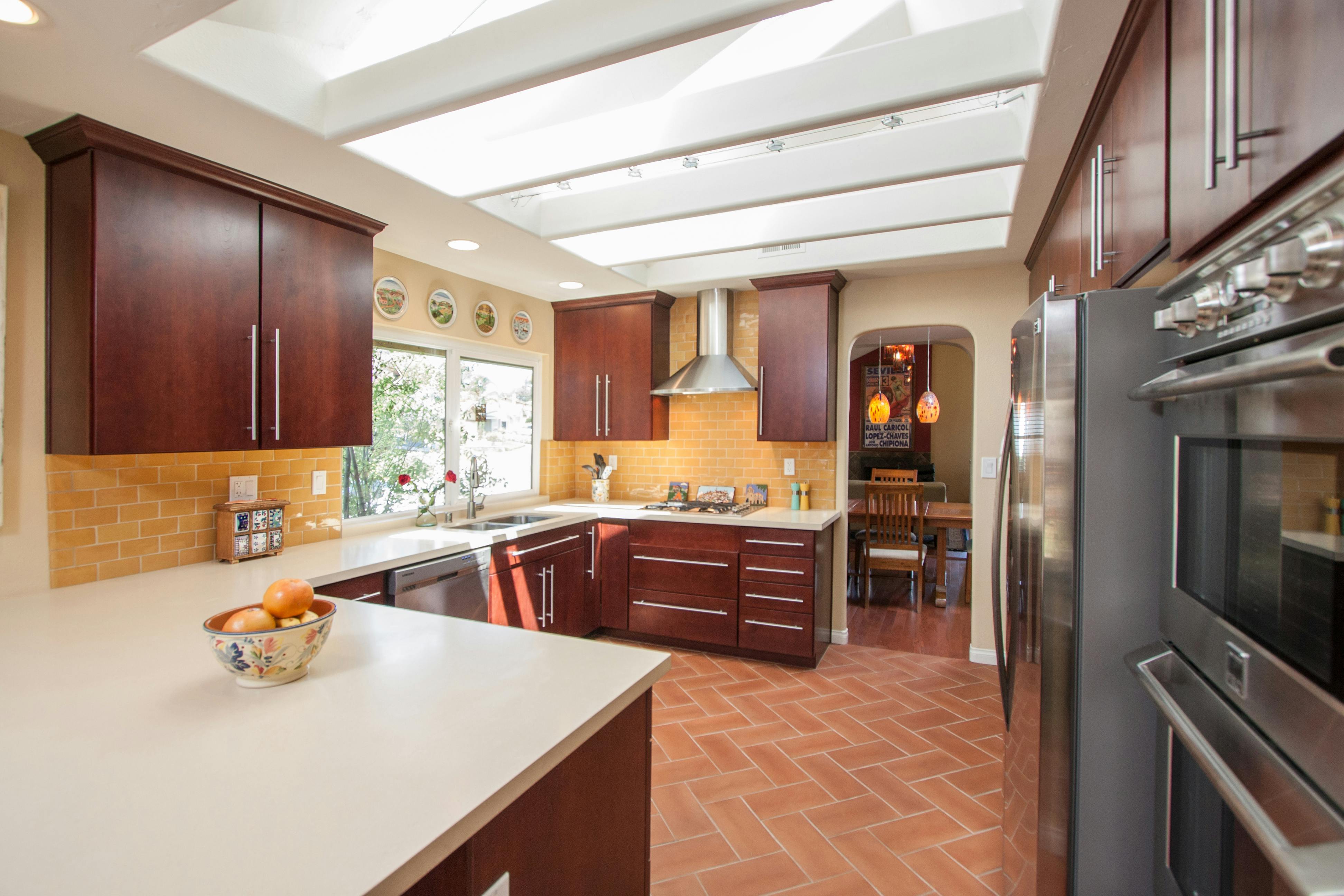 There is a lot of controversy on whether or not a Tuscan style kitchen is outdated here in the modern age. Sure, there are some elements that are far less used nowadays, but with the right resources and San Diego kitchen remodel team, you can never go wrong with a contemporary space that genuinely opens your home. Typically featuring an open-design layout, Tuscan style kitchens are gorgeous for their accenting, elegant designs and mosaic tile. This, along with the rich space and warmness of the browns, golds, and bronze elements that blend new and old-world influences, it stands to reason why this large San Diego family was ready to have a Tuscan style kitchen of their own.
Larger families call for a larger Tuscan style kitchen. Click here to discover how K-CO takes on this San Diego kitchen remodel to deliver a spacious masterpiece.
The Cozy Tuscan Style Kitchen Remodel – K-CO Case Study
 Large families that enjoy hosting large events inevitably need a lot of kitchen space to make it happen. This very goal was the grounds for these San Diego clients to reach out to K-CO to convert their current closed-in kitchen into a spacious Tuscan style spotlight. By the end of the transformation, these clients were able to not only bask in the contemporary beauty with modern twists, but also gained ample amounts of space that can fit their large family (and entertainment events) with ease.
Using careful innovation and dynamic Italian influences, this new Tuscan style kitchen now features an array of vibrant tones and space to move around. The walls themselves are painted using natural tones with a gorgeous 28sqft glass backsplash that goes from the ceiling down to the new stainless steel undermount sink. Inside that same sink, there is now a chrome 1/2 horsepower disposal Badger 5 Ferguson faucet with a pull-out Moen to add that modern twist. Coupled with that, K-CO implemented luxury cherry wood cabinets with modern slab doors to draw out the color scheme. Then for the final touches, K-CO laid down 144sqft of porcelain (European Art) tile flooring in a Herringbone pattern that shines even brighter with the installed airy skylight that uses the same innate framing and wrapped drywall.  
Summary – Adding Some Italian Influences To Your San Diego Home
 Tuscan style kitchens are such a wonderful way to add space, sophistication, and elegance to a home. When done correctly, you can easily obtain an architectural design that is both contemporary and classy – the perfect cocktail of ingredients for a cozy kitchen result. All in all, embarking on a San Diego kitchen remodel to instill that antiquity and adornment of Italy's nature/art into your kitchen is certainly a valuable one, especially if you have a larger family who needs more space to entertain.
And to be sure that your vision gets converted seamlessly into a reality, then give K-CO a call today. Being a leading San Diego kitchen remodel contactor for the last 25+ years, they have both the expertise and passion for upgrading kitchens into a personalized Tuscan masterpiece just like they did here. In the end, all you need to do is say the word, and let the transformation begin.
Resources
https://www.houzz.com/hznb/projects/cozy-kitchen-pj-vj~1374351