The Latest Bathroom Design Trends That Are Here To Stay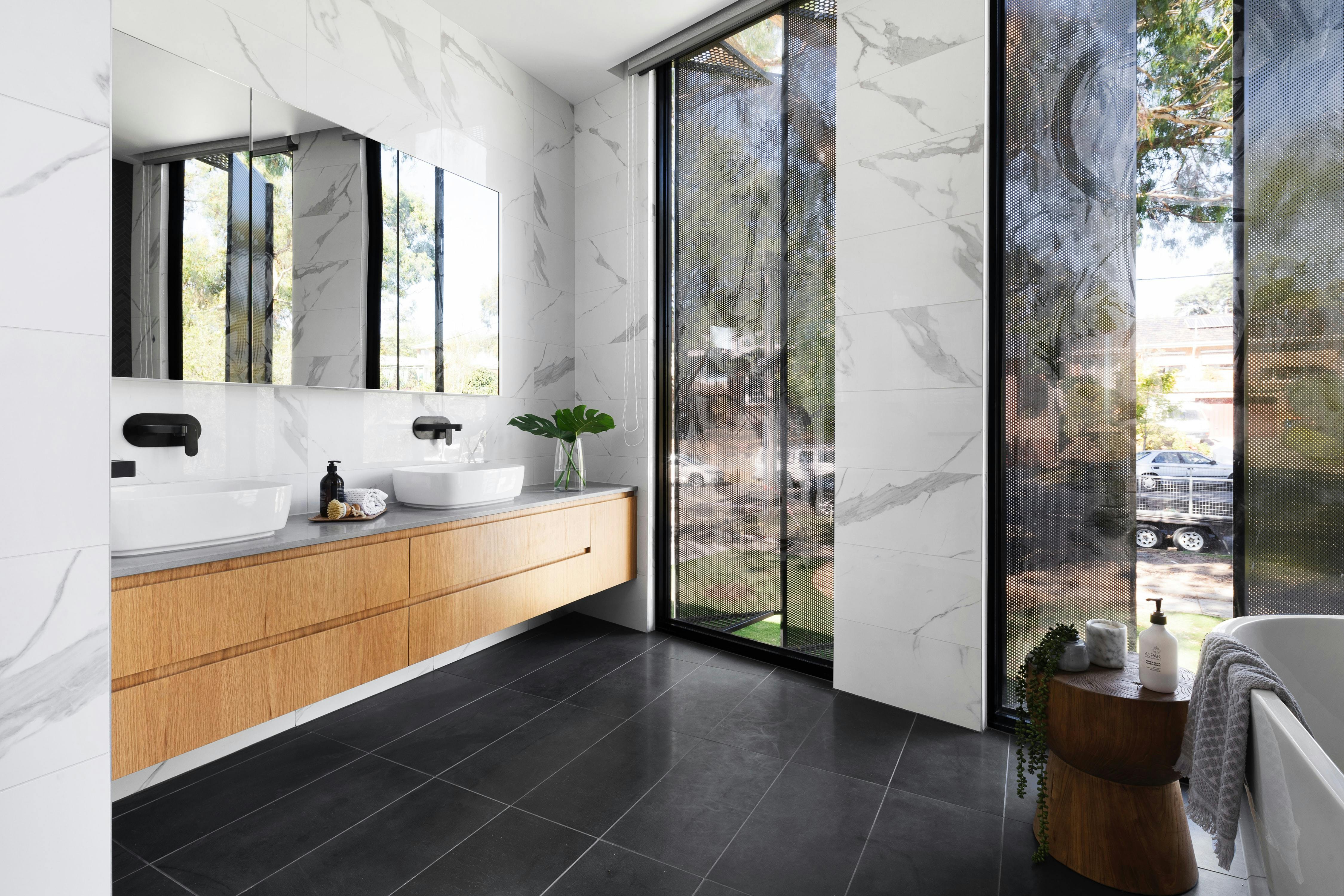 From coast to coast, good remodeling trends can spread like wildfire. Part of that stems from the times/style changing as a collective, and the other comes from updated technology and eco-awareness that has people shifting to become more aligned. And let's not forget about the global pandemic that had the entire nation on lockdown, making them even more in-tune to how valuable a quality designed home truly is.
Now, when it comes to trends, every room in the house has new ones surfacing. From kitchens, bedrooms to living rooms, they each have their own little space in the industry that have pushed them into the 21st century. But the key one that has seen a lot of new traction lately is none other than the bathroom. Overall, there are several new bathroom design trends happening right now, which have significantly broken through new luxury barriers in the world of construction. And if you are anxious to know what they are, keep on reading to see what these bathroom designs entail that are guaranteed to create that zen experience in your own home as well.
From minimalism to modern, the latest bathroom design trends are now in full effect. Read on to see what these bathroom designs entail and how K-CO can help you create that zen experience.
Lighting
 First and foremost, lighting is and always will be one of the most essential elements within bathroom designs. After all, lighting does much more than just add light to the space; it also offers drama and volume as well. So, for this bathroom design trend, lighting has become used in more places than just on the ceiling or above bathroom mirrors. They are now being integrated as lighted shower shelves, backlight mirrors, and as LED strips under vanities. There is even an uptick for natural lighting using features like skylights that enable one to soak under the stars. In the end, if there is any remodeling trend that is worth checking out singularly, it would hands-down be the lighting.
Floor to Ceiling Windows
 Branching off the lighting aspect a bit, another big bathroom design trend is integrating floor-to-ceiling windows. With enlarged windows such as this, it helps bridge the outside/inside gaps by intertwining both harmoniously, all while bolstering that natural light desire mentioned above. Even if you happen to have a killer view or not in this circumstance, you will surely get that expansive, bright, spa-like feel (without taking up any extra space in the design) when going this particular route.
Only Natural Materials
 As the world shifts to become more aware and eco-friendlier, these factors were bound to make their way in remodeling trends at some point or another. Overall, with the intense sustainability push along with cost concerns came a higher demand for natural/salvaged materials. Though natural materials have imperfections, these are the very features that make it so authentic and vibrant, and of course, functional/easy to clean at the same time. You can also couple these natural tones with modern tiles that mimic natural wood, floating wood shelves, wood shower benches, or use it as a blank canvas to add splashes of bold, rustic, and contemporary finishes to enhance the naturalistic effect.
Advanced Fixtures
 Finally, the fixtures. From sinks, faucets, tubs to toilets, upgraded fixtures are the focal point of any bathroom that can deliver newfound comfort and practicality all at once. With new technological advancements and the push for being more eco-friendly, a remodel with sustainable fixtures that do not sacrifice luxury is an excellent win-win scenario. Plus, you can save money in the long run by using water-saving fixtures like shower heads (going from 12 to 17 liters per minute down to 6 to 8 liters). You can also take it a step further aesthetic-wise and add in an oval or round standalone tube to reduce the feel of rigid structures and straight angles. However, be sure to talk to your contractor first to see if this is something your bathroom is compatible with both space and structural reinforcement.
Summary – Jumping On The Trend Train
 In this day and age, remodeling trends of all kinds are continuously evolving. Some stick around for a long time, whereas others fade just about as quickly as they rose. The secret is knowing what ones are worth investing in for the long run and ones that will help you transform your space into something that makes you feel that homely tranquility the moment you walk into the room. And when it comes to bathroom designs, you best bet that the trends above are able to offer that.
From minimalism, naturalism to eco-friendly, these specific bathroom design trends were formed to bring the outside in and the inside out to allow you to feel more connected (with a luxury twist). The best part is that you do not have to venture into a project like this alone. With K-CO, you can have a team of professionals on your side to ensure you get the perfect balance between aesthetics and practicality. In the end, your bathroom is a space where you should feel ultimate peace, calmness, and zen, and K-CO is committed to helping you achieve just that and more.
PS: Don't forget to add at least one plant when remodeling is finished. It is that perfect final touch to really accentuate that spa-like experience and aesthetic flow.
Resources
2020 U.S. Houzz Bathroom Trends Study
https://www.bhg.com/bathroom/remodeling/planning/2021-bath-trends/